Always informed and everywhere

Our GPS system protects your vehicle against theft. You always know when and where your vehicles are and how long your teams were on site with the customer. This also gives you an overview of your drivers' adherence to schedules.
Transparency of working hours incl. 100% private cover
In addition to the transparency of working hours, it is particularly important to have transparency about the use of vehicles in private time. With our system you always know where your vehicles are or have been. This means that any misuse (e.g. outside working hours) can be traced at any time. Furthermore, we offer 100% private protection so that these measures are also legally correct.
Automatic logbook
With the automatic driver's logbook, you save on tedious paperwork and have more time for your customers thanks to a better coordinated fleet.
GPS tracking without employee consent
We have developed a special system that basically allows the use of GPS tracking devices even without the consent of the employee or works council. This statement only refers to a specific product – the Infostars tax office driver's logbook. Our sales department will be happy to advise you on the details.
Your advantages:
→ Weekly report control in a few seconds
→ Private abuse control
→ Activity documentation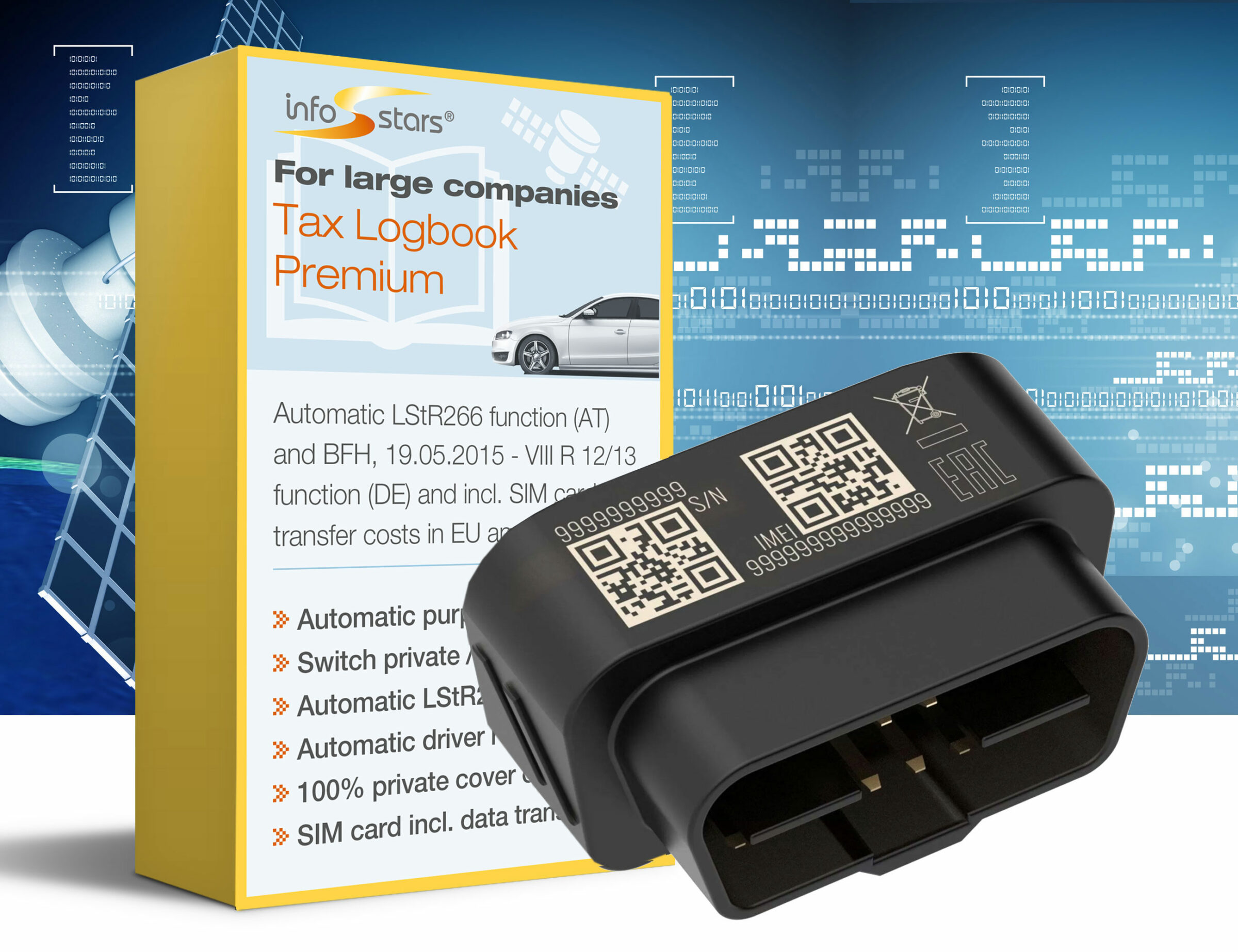 For large companies
Private/business Logbook Premium
Automatic proposal of the purpose of a journey, 100% private protection and automatic LStR266 (AT) , BFH, 19.05.2015 – VIII R 12/13 (DE) Function incl. SIM card and data transfer costs in Zone1.
→ Automatic proposal of the purpose
→ Switch private / business
→ Automatic LStR266 function (AT)
→ Automatic BFH, 19.05.2015 – VIII R 12/13 function (DE)
→ Vehicle groups, driver groups
→ 100% privacy protection option
→ SIM card incl. data transmission