Optimisation of your business processes

With our GPS systems, you automatically receive data from your fleet. This data enables you to optimise your business processes and fleet management extensively.
You benefit from cost savings and increased efficiency. Take advantage of your individual benefits depending on the type of fleet:
Save costs & increase efficiency
GPS fleet management for cars

On the one hand, our system guarantees data protection, on the other hand, you have great control options. It is possible to check the fuel level and the kilometre reading. In addition to the theft protection, you also get a simple logbook. Another advantage: The installation is very easy, cost-effective and can be carried out quickly!
We offer e.g.:
→ Automatic odometer check
→ And many more…
The perfect solution for more efficiency 
GPS fleet management for trucks

In this area, our system is the perfect solution to ensure the greatest possible control with the highest level of data protection at the same time. We can show you where the trucks are on a platform independent of the truck manufacturer. Their tachographs and driver cards can be read out automatically from the office. And you can transparently display the number of tours and where the truck has tipped over, all in the driver's logbook or on the map.
We offer e.g.:
→ Dispatching
→ Temperature monitoring
→ Order transmission
→ And many more…
More control and faster order processing
GPS for vans

With the OBD2 devices or cigarette lighter device, we have a simple solution that can be used very cost-effectively to keep an eye on the vehicle fleet. With this plug & play solution, you can also monitor the temperature in the cargo area without having to go to a garage for installation. This saves you costs and, above all, logistics time.
We offer e.g.:
→ Dispatching
→ Temperature monitoring
→ And many more…
Effective with GPS in agriculture & forestry
GPS for agricultural machinery

GPS support for your agricultural or forestry machinery for cost savings and increased efficiency. Take advantage of one of our comprehensive service packages or work with us to create your customised solution.
We offer e.g.:
→ Current location of the machines
→ Operating documentation (e.g. when and where ploughed, which equipment is used)
→ Location evaluation (e.g. on which fields worked)
→ And many more…
New GPS uses for large or small assets
GPS for assets

Whether you have large or small assets with or without power supply, we have tailor-made solutions for your construction machinery fleet and assets with the focus in the following areas.
We offer e.g.:
→ Tracking (GPS-GSM-Bluetooth)
→ Locating and dispatching
→ And many more…
Use GPS on water too
GPS tracking for boats and yachts

Whether you want to protect the whole yacht or just the outboard engine, we have the solution for you. You can simply use Plug & Play mobile GPS devices without installation or fixed devices. We are happy to offer you an individual solution for your boat with alarm control centre connection. Use the features such as self-geofence or prohibited geofences to be actively informed of unusual movement.
We offer e.g.:
→ Alarms & alarm centre
→ And many more…
GPS solutions for all vehicles
Mixed fleet with GPS system

Our systems work independently of manufacturers. We can display all your different vehicles in one software. You can use all of our available GPS device models – our software shows you everything uniformly and clearly:
→ Cars
→ Vans
→ Flatbed truck
→ Trucks
→ Construction machinery
→ Tools
→ Special machinery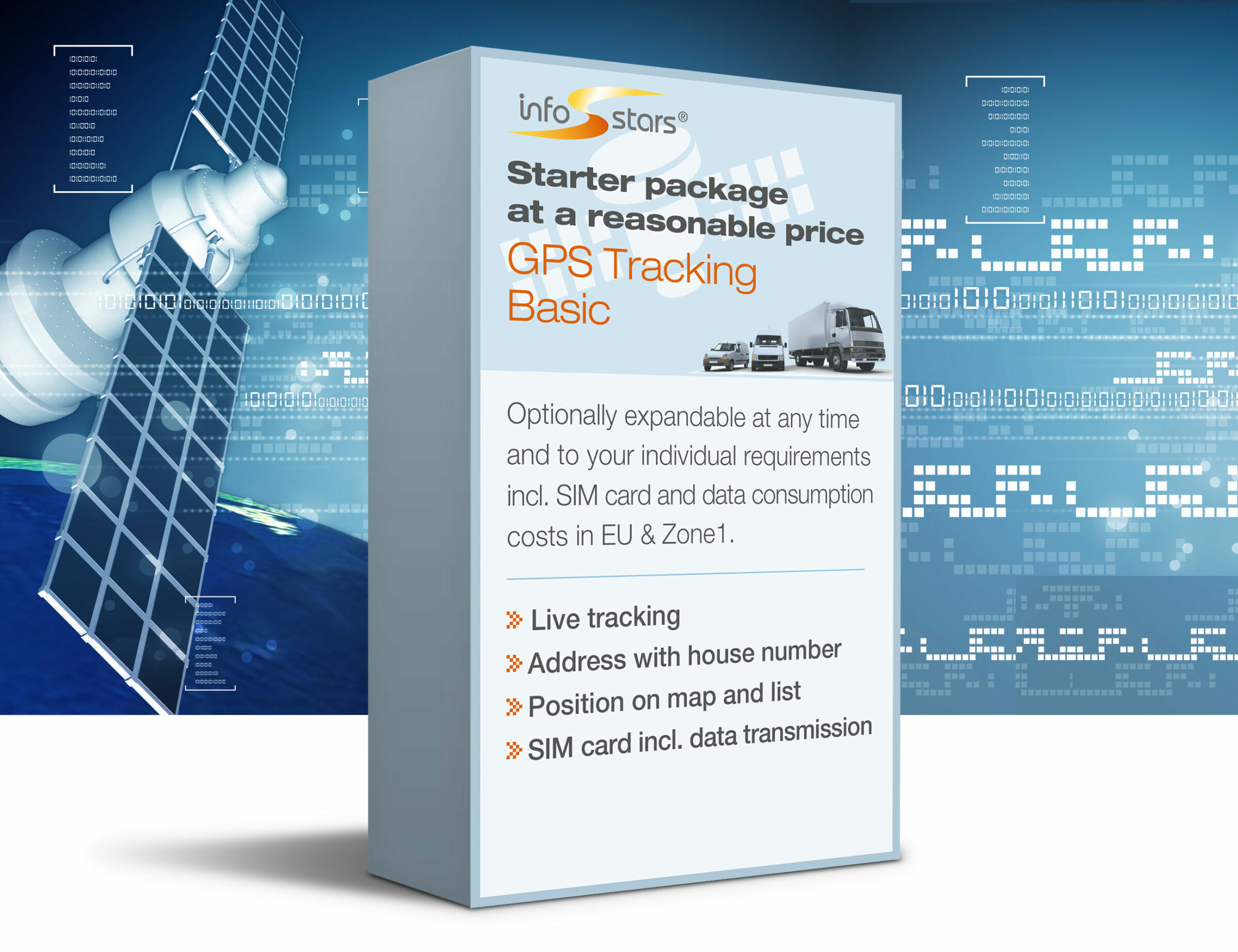 The affordable GPS solution for starters
GPS Tracking Basic
The starter package at a particularly favourable price, optionally expandable at any time and configurable to your individual requirements.
→ Live-tracking
→ Address with house number
→ Position on map